Dental Veneers Near You
If you're seeking cosmetic dentistry treatment, receiving dental veneers at a dental clinic near you is a great option to consider. Dental veneers are wafer-thin coverings that are placed over the top of the front-facing surface of your teeth. This can be done to hide stains left behind by certain food and drink or to alter the length or size of your teeth. Your veneers are carefully designed to fit the dimensions of your teeth, so you won't have to worry about them slipping out of position once they've been applied.
What are the Types of Dental Veneers that are Available?
Although dental veneers can be fashioned from a few different materials, porcelain or resin veneers are typically the most common. This is because they can be made to mimic the natural color of your teeth. When you book a consultation with your dentist to receive porcelain veneers at our dental clinic in Orléans, you'll discuss which material you prefer.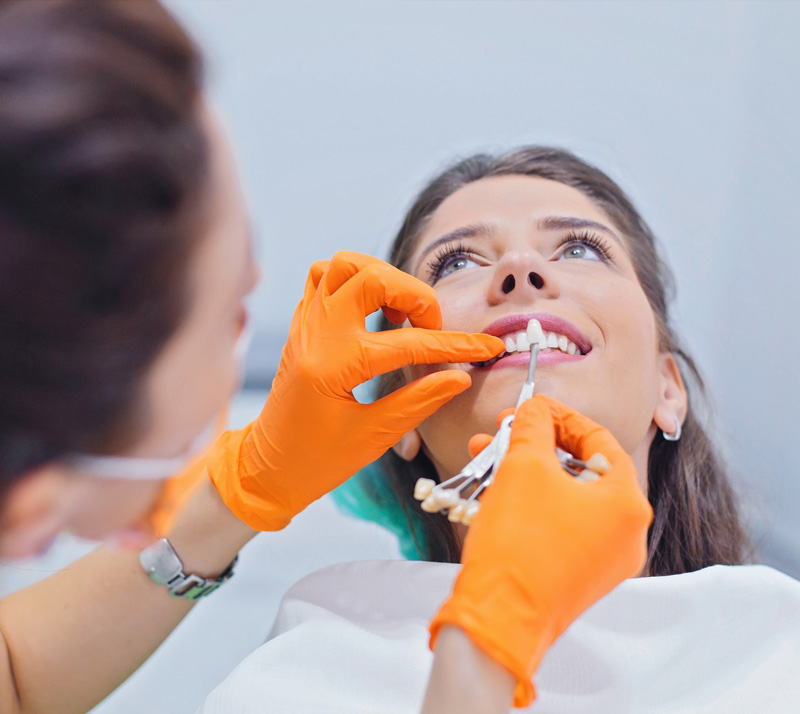 What are the Steps to Receive Porcelain Veneers in Orléans?
Whether you're receiving porcelain veneers in Orléans or at a dental clinic elsewhere, this process typically requires at least two visits.
During the first appointment, your dentist will examine your teeth and make sure that this course of treatment is best suited to your specific case. Then they'll take x-rays as well as make impressions of your teeth. These impressions are sent to the dental lab and used to make a set of porcelain veneers that fit you perfectly.
You'll return later to have your dental veneers applied. Your dentist will proceed to clean your mouth, reshape them, and then scrape off a bit of the enamel on the surface of your teeth. This small, but important step is important as it'll help the veneers bond to your tooth better. Finally, a special UV light will be employed to help the dental veneers harden into place.
And there you have it! A beautiful new smile, made just for you!
Why You Should Consider Getting Porcelain Veneers
Some of the main advantages of receiving porcelain veneers include:
They will illuminate your smile and boost your self-esteem.
Porcelain doesn't irritate your gums.
Porcelain veneers are more resistant to stains than resin.
It's permanent.
That said, receiving porcelain veneers as a dental treatment can be costly. You still need to brush and floss your teeth after each meal too. Practicing good oral hygiene will keep your smile healthy and bright.
Are you looking to receive porcelain veneers near you? The staff at our local dental clinic are here to help you get this process going, in addition to addressing any questions or concerns you might have along the way. You deserve to feel good about your smile; we look forward to walking with you on your dental journey.